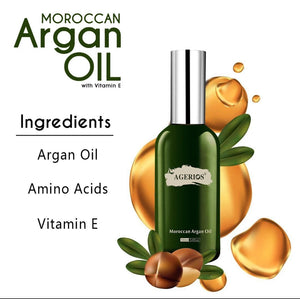 Top Organic Moroccan Argan Oil with Vitamin E / Leave-In / Protects Against Heat / Prevents Damage and Prolongs Hair Color / Anti-Frizz / Adds Shine / For All Hair Types / 100ml / 3.4 oz
Sale price Price $35.99
Regular price
$49.99
Argan oil moisturizes your hair, scalp and protects your hair from everyday damage. By reducing breakage and split ends. Argan oil keeps your scalp healthy and helps prevent hair loss for thicker, fuller hair. 
More Benefits Include:
Deep Conditioning Treatment
Softens and Hydrates Hair
Against UV Damage
Lightweight and Non-Greasy
Nourishes Hair
Strengthens Hair
Fortify and Promote Hair Growth
Combats Split Ends
Combats Frizz Hair
Helps Fight Dandruff
Helps Add Shine 
Scalp Treatment
For All Hair Types 
Ingredients
Argan Oil 
Amino Acids
Vitamin E 
100ml / 3.4fl oz
 Argan fresh charming series
Agerios Moroccan Argan Oil is a very healthy and unique hair and skin care oil, which contains rich fatty acid, amino acids, vitamins AB as well as iron, zinc and other trace elements. It can effectively repair the damaged hair and make the hair more beautiful and healthy, with lustre and shinning, it can moisturize the dry skin and make the skin more flexible and healthy. 
Directions: Directly cover it on the hair and skin, and slightly massage, when the oil is scattered uniformly, it's finished.